We're pretty excited here on the Outer Banks to be named twice in the "2020: Top 25 best places to buy a vacation home" by vacasa.com. According to their unmatched market data, they state that Corolla and Hatteras as destinations maximize return on your investment.
The time is NOW for investing in the Outer Banks!
Back in June we reported that property management companies from Corolla to Hatteras Island are reporting record reservations. There just aren't enough homes available for everyone hoping for an Outer Banks vacation this summer. Read more here "Highest Recorded Number of Homes UNDER CONTRACT!"
WHY INVEST IN THE OUTER BANKS
2020 saw more visitors than vacation rentals, there was a shortage! (OBAR 5May20 Report)
Tourism spending in Dare County has increased from $233 M in 1990 to over $1.9 B in 2018. (VisitNC.com)
Dare County ranks fifth in Visitor Spending for the entire state of North Carolina (VisitNC commissioned report)
Over the past 20 years, the market has experienced average annual growth of 16.9% (DareNC.com)
Forbes Magazine featured the Outer Banks as their #1 destination and #1 beach that Americans are dreaming about visiting this summer, they even called us the most resilient after the Covid-19 lockdown. They wrote:
"The Outer Banks are among those travel destinations that offer everything: Instagrammable beaches (and lighthouses too!), great food, reasonably priced activities, picturesque towns … Thanks to the expansive sandy beaches, travelers can easily observe social distancing if necessary."
RECORD SALES!
The Outer Banks Association of Realtors reported:
"July was a very good month! Up until this month, the highest total number of sales on the Outer Banks occurred in May of 2005 (401 units sold). In July 2020, this record was broken with 441 sales and, with 906 units still Under Contract (this is a 101% increase over July 2019), August may also be a record month."
As well, the Outer Banks Visitors Bureau reported records broken for June 2020 vacation rentals, "Dare sets record with June 2020 occupancy dollars." OBX Visitors Bureau Executive Director Lee Nettles said that the data strongly suggest that:
"What we see is a lot of demand for the Outer Banks and what we believe is being perceived as a safer vacation alternative…So safety continues to be first and foremost in people's minds."
WHAT MAKES A VACATION RENTAL A GOOD INVESTMENT?
15% – 20% Average ROI
Excellent tax benefits
Positive cash flow
Flexible down payment options
Rental-ready homes are turnkey
They build long-term wealth and legacy
It provides endless FREE vacations & memories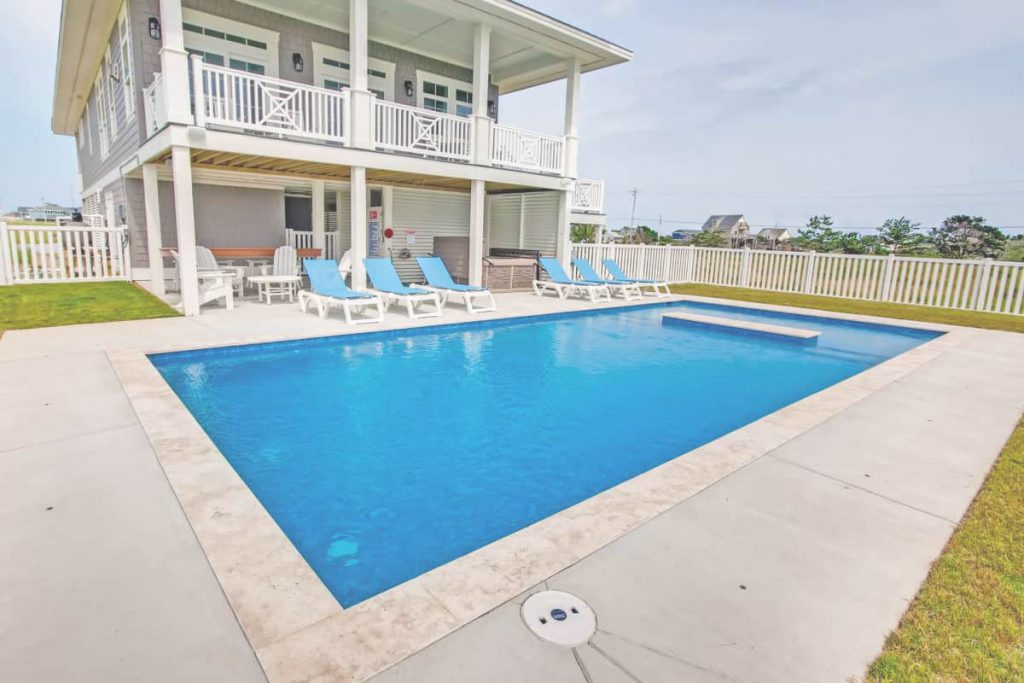 RENTAL READY
Did you know when you choose us to build your your investment property, you also get an expert team of advisors to help with all aspects of the design process, so you can be as hands on as you like. From choosing the interior design colors and features, to customizing the floorplan, we're here to walk you through it. We have a Design Studio, so if you purchase a turn-key vacation home, "rental ready" you also have the added benefit of incredible professional design from the top notch Coastal Accents and Design. You've probably seen their stunning work in many of the SAGA Realty & Construction homes.
You may also enjoy: SAGA now offering 6 Newly Designed Homes for Luxury Corolla Living.
COROLLA MOONGATE MODEL & VIRTUAL PARADE OF HOMES
If this vacation home impressed you, then be sure to see all five of our entries in this year's Outer Banks Home Builders Association Virtual Parade of Homes. It begins October 2020, and you'll have the chance to vote for your favorites.
You're also invited to tour one of our popular investment model homes in Corolla, North Carolina, the Moongate to see for yourself how easy it is to invest in this hot buyer's market. It's open 7 days from 11am to 4pm daily, or by appointment.
GPS: 986 N Harbor View, Corolla NC 27927. For Google map directions, click here.
WHY SAGA REALTY & CONSTRUCTION?
Over the past decade SAGA has been the #1 investor in the Outer Banks. We understand first-hand the value in the region.
This unique chain of barrier islands is a drive-to vacation destination that continues to grow in popularity. A place where families make it a tradition to visit, year after year, decade after decade, generation after generation.
Our simple approach to income producing investment homes allows you an average of 15% – 20% return on your investment. Best of all, it's an investment you can use with your friends and family!
The positive cash-flow vacation home models we offer pay for themselves, with strong, proven, performance. Work with us, and we will guide you through every detail of the investment home process, from design, financing, construction and furnishing to suggesting the right rental management for your unique property.