Record market growth along with unprecedented interest in new home construction have allowed SAGA Realty and Construction the room to dramatically increase the size of their premier real estate sales team just in time for their expansion into a brand new sales building in Southern Shores.
"Our agents are enjoying the very busy real estate market across the board, both in selling new construction and assisting sellers and buyers with existing home inventory – our unique set up allows for a lot of flexibility and considerable growth. We are excited to be able to bring more interested agents on board," notes Debbie Gabbert, Director of Sales.
As the largest developer and home builder on the Outer Banks, SAGA has created a number of popular planned communities over the past 15 years. This has allowed them to increase their qualified client base and expand their sales team to take full advantage of the demand of qualified buyers interested in new construction. Now in 2021 with a number of new developments on the horizon and the streamlined process to build their home plans on any lot – SAGA is looking for more top agents to join their team.
"It's not just our communities clients are building in, we have the capability to build one of our tried and tested Outer Banks custom home plans on any lot on the Outer Banks – even those with existing, aging run-down homes. There's no limit to what clients can do when working with SAGA and we are lucky to have the experience to overcome most any hurdle that comes up in the process – a reason many buyer's agents find it easy to work with us too." Explained Tammy Aycock, Principal Broker-in-Charge.
Another unique opportunity agents have working at SAGA is the ability to staff one of several unique fully-furnished model homes. Heavily advertised, these homes give buyers a first-hand feel for what could be theirs and serve as a popular way for agents to get to know new clients.
The new sales office is located at the base of the Wright Brothers Bridge as you enter the Outer Banks in Kitty Hawk. With sleek furnishings and state of the art technology, it's a place any agent would be proud to call their home base. Physical address is 6445 N Croatan Highway, Kitty Hawk, NC.
"We are so fortunate to not only be a sales firm but to have many years of experience working with wonderful architect and interior design partners, including our own in-house team. Working with many talented colleagues and local craftsmen, we were able to create a beautiful space in a prime location easily-accessible to our clients in Dare and Currituck Counties!" exclaimed Gabbert.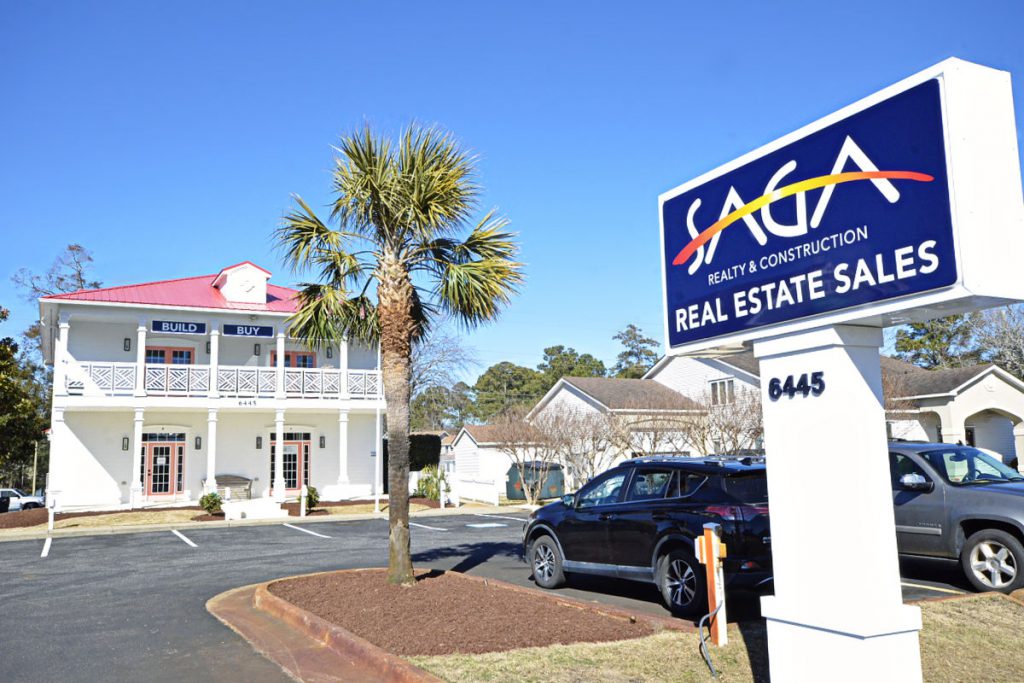 Interested agents should call Debbie Gabbert at 252-305-3090 for a confidential interview.
SAGA Realty and Construction is an award-winning custom home builder on the Outer Banks building homes in a range of prices, from the $200 thousands to $2M+. They are also a growing full-service Real Estate Firm and a planned community developer. With in-house architectural designers, interior designers and over 15 years of experience building homes in the unique Outer Banks environment, SAGA has helped more clients build, buy, sell and invest in the Outer Banks than any other company in the last decade. For more information visit their website at www.HomesBySaga.com or call 252-301-3090.