When most people think about coastal design they may envision seashells and dolphin décor, or even blue and white shower curtains with anchors, which is more nautical than coastal. In the Hamptons they may focus more on nautical with geometric prints and deep blues, but here on these barrier islands of North Carolina we incorporate more texture and natural elements.
Let's explore some beautiful coastal design ideas inspired by the Outer Banks.
BY DEFINITION, COASTAL DESIGN SIMPLY PUT IS BEACHY
Through the abundant use of natural light, softer organic tones, and a clean aesthetic, coastal design is meant to evoke the relaxed feel and breeziness of the beach. If you are inspired by the ocean and all that encompasses, then your goal might be to make your home feel "summery" all year long.
Jane at Home in the article "Modern Coastal Decorating Ideas for Your Home" suggests the style as:
Inspired by organic colors and textures of nature, contemporary coastal décor includes light woods, baskets, natural fiber rugs, woven light fixtures, and easy-care fabrics like cotton and linen. … When incorporating coastal design in your home, try to use a light touch.
AN ABUNDANCE OF LIGHT
Living on the Outer Banks is about living outside as much as it is inside, so you'll want to incorporate the great outdoors indoors and visa versa. Many of the beautiful SAGA Realty & Construction built beach houses have just as many entertaining spaces outside, like porches and decks, plus the very important grilling and chilling areas near swimming pools.
Long gone are the cramped and cluttered dark paneled beach cottages, as newer coastal design showcase big bright windows. Think open and airy floorplans, vaulted ceilings, overstuffed sofas and minimal window treatments. There should be no harsh boundary between the indoors and the natural world outside.
BRIGHT AND WHITE
As mentioned nautical is more the darker blue and red hues, whilst coastal is more muted ones. You can add neutrals like light greys, greens or pale pinks to accent your bright white shiplap paneled walls or tongue and groove natural pine ceilings. Add a slightly more vibrant coral or sky blue if you love a tropical or more exotic style, or if you're "a little bit country" then you may wish to mix in some of your favorite blue-green shades.
KEEP IT NATURAL
For your coastal vibe to feel relaxed consider incorporating natural elements. This could be with a jute or seagrass rug, furniture that is made from light or weathered woods and fabrics that are simple and bright.
In today's design world you can adopt any eclectic mix of styles and make it your own. Typically for coastal design you would try to avoid metallics, or anything that is flashy or too garish. Painted woods would mostly be avoided, and instead use white-washed or blonder woods like ash, or leave them in their natural state.
House Beautiful wrote in "Everything You Need to Know About Coastal Design"
In order to create a relaxed, easy vibe, coastal design usually incorporates many natural elements. This comes in through the furniture, often made out of wicker, rattan, or light, weathered woods, and fabrics. Rugs are generally straw, seagrass, or jute, and fabrics are simple and devoid of shine.
OPEN SPACE
All of the floorplans in the homes built by SAGA Realty & Construction are designed by the best local architects that incorporate a light and airy feel, with open space for a natural flow. We know that every design detail will breathe life and character into your home.
Furniture and décor are important accents for beautiful coastal home design. When you partner with SAGA to build your dream home, you're invited to our design studio and given expert help in choosing the perfect coastal vibe to fit your lifestyle.
SEASHELLS AND MERMAIDS
When you live near the ocean, beachcombing is part of your regular routine, and some may even call it a hobby. Whether fishing, boating, swimming or catching a stunning sunset over Kitty Hawk bay, you love to spend time outside on the seashore. It's totally fine to tastefully add in your favorite collection of seaglass in an old jar, hang some crab pot floats you've discovered after a big storm. Just keep the kitsch to a minimum. this means some restraint in putting "something everywhere." Try to maximize the coastal feel vs the commerciality of clever signs and flipflop bedspreads. It's easy to fall for the cute and clever bric-a-brac, but be warned, once you live on the Outer Banks your guests and visitors will find plenty of this to give you as gifts.
The Outer Banks is not only beachy, but we have the amazing saltmarshes on the sounds which are the life of the sea. This brackish ebb and flow is the lifeblood of this region. So, if you decide to add in some seaside touches created by local artisans, just try to keep it to a minimum, because less is always more.
MODEL HOMES OPEN DAILY
COASTAL ACCENTS & DESIGN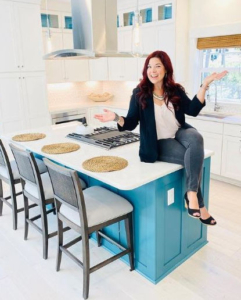 If you'd like to explore this coastal style in person, we recommend touring our model homes (Corolla and Kill Devil Hills). Be sure to check out one of our favorite design storefronts, Coastal Accents and Design. Owner and designer Emily Sheipe is one of the area's best designers, and a top choice for all of our new beach homes.
Located between the Outer Banks of North Carolina and the coastal Hampton Roads area of Virginia (near Grandy), they are a furniture, accessory, gift, and interior design showroom specializing in the latest styles and colors in coastal design and décor. Their knowledgeable and friendly staff will be happy to assist you in making selections.
5705 Caratoke Highway
Poplar Branch, NC
252.453.3501
coastalaccentsnc@gmail.com
Hours of Operation:
Monday – Friday 9:30 am – 5:30 pm
Saturday 10:00 am – 4:00 pm
Sunday CLOSED