Fundraiser for Friends of the Museum of the Albemarle
Saturday, June 25, 2022, 7 - 11 pm
Earth to Nags Head Casino! News Flash: Museum of the Albemarle, Elizabeth City: On a collision course with Wormhole in Time! A time warp has been sighted emanating from the Andromeda Galaxy. It is headed toward the Albemarle Region. It is estimated to swallow-up the museum on June 25 between 7-11pm.
The effects will transform the museum into a long-ago beach club, known as the Nags Head Casino, near Jockey's Ridge. Please be warned and prepared to dance and relax on the museum's patio and enjoy a night with the band "Coast"- Connected and DJ Mike Thigpen playing and spinning beach music, shag, soul, and R&B tunes from the 1960-1970s.
Please be advised time travel guides will be on-hand to keep order and provide light food, beverages and show you and your friends to the dance floors, as well as accommodate the wide spread panic associated with time travel.
The travel (admission) fees are $25 dollars for Friends of the Museum of the Albemarle members and $30 for non-members. Please be advised that the time delay will only last for approximately four hours and space aboard the museum's patio is limited. We are ready to serve you!
We will state that your participation will help fund future programs and exhibits for the museum- as always, free for all ages.
Disclaimer: We cannot guarantee that you will be able to return to the present, many people have vanished or refused to leave the confines of carefree days and the unforgettable music.
The Friends of the Museum of the Albemarle (FOMOA) is a non-profit support group that seeks to raise awareness and provide funding for all of MOA's free educational programming, artifact conservation and exhibit design and fabrication – throughout the thirteen (13) county region that we serve.  The counties we serve are:  Bertie, Camden, Chowan, Currituck, Dare, Gates, Hertford, Hyde, Northampton, Pasquotank, Perquimans, Tyrell and Washington counties.
The Friends is the recipient of all funds raised and sponsorships help us continue funding all of our free educational programs, exhibits, as well as preserve regional artifacts.
Please join us on Saturday evening, June 25th  from 7 – 11 pm for a nostalgic dance party.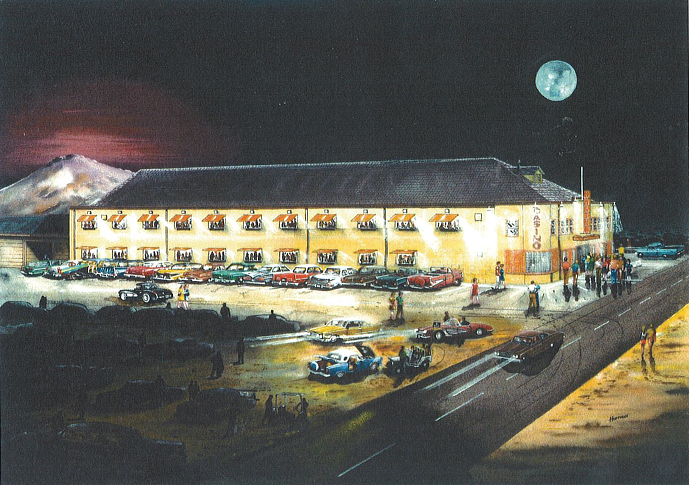 William Hoffman's original watercolor painting of the Nags Head Casino will be up for bid at this party
by silent auction