21th Annual Independence Day Celebration & Fireworks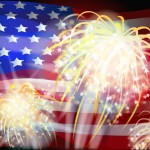 Come join Currituck County on the Fourth of July and watch the best fireworks on the Outer Banks! The 21st Annual Independence Day Celebration will take place at the Currituck Heritage Park in Corolla, a part of Currituck County. The fireworks will start at dusk at the event.
The Currituck County event includes local BBQ, pizza, and popcorn. A variety of activities, including a cornhole tournament, will be available for family members of all ages. The cornhole tournament begins at 6:30 p.m. The Tidewater Drive Band will be performing music for the evening. The band is a dance and party band, with eight members and a complete horn section. The Tidewater Drive Band performs for a variety of functions and has specializations in genres such as Disco and Motown as well as songs related to each performance and Top 40 songs.
Sponsored by the Currituck County Department of Travel and Tourism.
Admission and Parking are free. For additional details please visit ComeToOurBeach.com
If you plan to head down in the morning please be advised:
The Town of Duck will hold the 9th Annual 4th of July Parade on Thursday, July 4, 2013 at 9:00 a.m.
Please plan accordingly if you are travelling through the Town of Duck on the morning of July 4.  Businesses are also asked to advise staff as well as delivery vehicles of the anticipated congestion.  Traffic may be more congested than usual between the hours of 8:00 a.m. and 11:00 a.m.  The parade is expected to last for one hour and draw between 5,000-7,000 attendees.