Dear friends,
Amidst the excitement and nostalgia of the holiday season, we hope you take a little time to consider how you
can give back to our neighbors in need. As you may know, our local Albemarle Area United Way partners with more than 20 local non-profits that support our community in many ways, from food and financial assistance to educational and social resources.
Here are a few ways you can help us strengthen our Northeastern North Carolina community and give a hand up to those who need it most.
DOUBLE Your Impact When Supporting Our Community
Our flagship program, the Community Care Collaborative (CCC), has been awarded a $10,000 matching grant through the NC Community Foundation. The CCC provides financial assistance to residents facing temporary hardships like an illness, car repair, or loss of income. Since the program's launch last year, we have helped 400 households across Camden, Pasquotank, and Perquimans Counties.
#GiveThanksNENC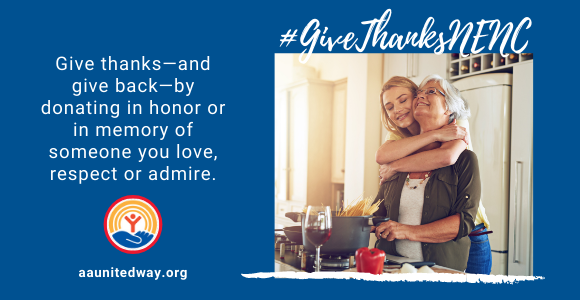 With the season of giving upon us, we invite you to give thanks to those who have touched your life or the lives of others. Our #GiveThanksNENC campaign gives you an opportunity to not only support our Northeastern North Carolina community, but to do so in memory or in honor of someone you love, respect, or admire.
To show your support or gratitude:
DONATE to the #GiveThanksNENC campaign, and select the "I'd like to give in honor/memory" checkbox. You'll have the option to share your tribute message via email or letter.
VISIT the Albemarle Area United Way Facebook page or Instagram (@aaunitedway) and share why you chose to give using the #GiveThanksNENC hashtag.
SHARE this page
 with your friends and family! Every inspiring post with the #GiveThanksNENC hashtag will 
appear on this page
—so, you can view and share your gift anytime!