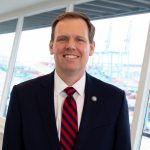 Mr. Chris Gullickson
Director, Development and Transportation Policy
The Port of Virginia
Chris Gullickson joined The Port of Virginia in August of 2013.  He currently serves as Director, Development and Transportation Policy, with the responsibility of engaging the Commonwealth, regions, and cities to promote and secure industrial land zoning and transportation freight planning to establish the land bank needed for developers and the road and highway improvements for freight growth.  In addition, Chris played an active role in repositioning Portsmouth Marine Terminal as the premier East Coast Offshore Wind staging and load-out port; he also leads the efforts at the Port to promote outside-the-gate development of the Offshore Wind supply chain.
Prior to joining the port, Chris spent seven years at the Hampton Roads Economic Development Alliance (HREDA).  He served as Vice President of the HREDA, charged with attracting new businesses to southeast Virginia.  During Chris's time with HREDA, he successfully assisted numerous companies in locating to the Hampton Roads region.
Chris is a graduate of Old Dominion University, where he earned a Bachelor of Science Degree in Business Management with a concentration in Finance.  Chris is also a graduate of the University of Oklahoma, Economic Developers Institute, having earned a certificate in Economic Development. He is currently a member of the Virginia Wind Offshore Development Authority (VOWDA) and a Board Member of the Virginia Gateway Region.  Additionally, Chris is a member of the Southern Economic Development Council, most recently serving as the State Director for the Virginia Delegation.  Chris is also an active member of The Virginia Economic Developers Association and The Virginia Maritime Association.
Chris and his wife, Danielle, reside in Chesapeake, Virginia.  They are the proud parents of two daughters, Elle and Emmeline.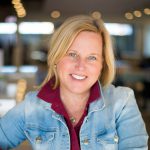 Ashley K. McLeod
Lead OSW Public Affairs
Avangrid Renewables
Ashley McLeod is Lead OSW Public Affairs for Avangrid Renewables Kitty Hawk Offshore Wind* project.   Ashley engages with residents, businesses, elected, agencies, civic groups, NGOs, and city officials keeping them updated and aware of project development, sharing potential benefits to the community, and listening.  Ashley established a field office in Virginia Beach when she joined the team in August of 2020.
Prior to the Kitty Hawk Offshore Wind project, McLeod was the Vice President of Communications and Membership for the Virginia Maritime Association (VMA), a trade organization advocating on behalf of maritime industries, which included active promotion of offshore wind development in the Mid-Atlantic Region.   She has been the executive director of several non-profits, as well as an elected member of the Virginia Beach School Board.
Ashley McLeod holds a Bachelor of Science in elementary education from Indiana University, Bloomington, IN. Her graduate studies, also at Indiana University, in Parks & Recreation Administration brought her to Virginia in 1992 to work at Great Neck Recreation Center in Virginia Beach.
McLeod's community leadership is varied. She currently serves on the Governing Board for WHRO (PBS affiliate), Propeller Club of Norfolk and received an appointment to the Virginia Offshore Wind Development Authority.  She completed her terms as a member of the Girl Scout Council of Colonial Coast Board of Directors and Sister City Association of Virginia Beach Board of Directors, among others.  Her civic engagement began as President of Campus East Homeowners Association, founding member of Northwest Beach Partnership, PTA President at Old Donation School and Co-Chair of the VA Beach City Public Schools Facilities Steering Committee.
Ashley is a graduate of the Sorensen Institute's Political Leadership Program at University of VA (2014) and the Civic Leadership Institute (2017).  One of her proudest accomplishments is the Maritime Leadership Certificate Program she established while with VMA, inspiring a new generation of maritime leaders.
Ashley has two adult children and lives in  Virginia Beach. She is an Elder at Bayside Presbyterian Church where she sings with the praise band and is a youth advisor. Ashley enjoys scrapbooking, gardening, baking, book club, good wine and craft beer.
*Kitty Hawk Offshore is a project of Avangrid Renewables, a subsidiary of AVANGRID, Inc. (NYSE: AGR), and part of the IBERDROLA Group, an energy pioneer with one of the largest renewable asset bases in the world. AVANGRID is at the forefront of transforming the way the U.S. produces and uses energy. Strongly positioned to develop, build, and operate the clean energy infrastructure of the future, Avangrid Renewables is already generating power from more than 60 renewable energy projects for its utility-scale customers in the United States, helping lead America's transition to a renewable energy future and playing a leading role in the growing U.S. offshore wind industry. Avangrid Renewable's energy projects around the country, including the Amazon Wind Farm in northeastern North Carolina, have brought substantial long-term economic benefits to local businesses, schools and communities. Proud to be a part of the communities where we live and work and are excited to work together with stakeholders in Virginia and North Carolina on Kitty Hawk Offshore to create lasting benefits for generations to come.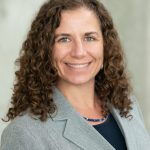 Jennifer Mundt
Assistant Secretary of Clean Energy Economic Development
NC Department of Commerce
In her role as Assistant Secretary, Jennifer is helping to lead North Carolina's efforts to secure economic development and workforce opportunities in the increasingly important clean energy sector.  She is a key player in the development of the state's resources for offshore wind energy, working with colleagues across the Cooper Administration to advance offshore wind through policy, regulatory, and economic development work.
As part of this work, Jennifer serves as Governor Roy Cooper's named Point Person to the North Carolina Renewable Energy Task Forces of the Bureau of Ocean Energy Management (BOEM).
Jennifer was instrumental in the development of Executive Order 218 – which established NC's first offshore wind development goals – and the development of the offshore wind SMART-POWER Memorandum of Understanding with Virginia and Maryland – which brings together the strengths of all three states to develop offshore wind in the region.
Prior to her work at Commerce, Jennifer served as Senior Policy Advisor in the NC Department of Environmental Quality working with then-DEQ Secretary, now EPA Administrator Michael Regan. Prior to her work at DEQ, she spent more than a decade as a nonpartisan Senior Legislative Analyst at the North Carolina General Assembly.
Jennifer graduated with dual bachelor's degrees in Environmental Science and Political Science from Virginia Tech and earned a Master's of Science in Public Health from the University of North Carolina at Chapel Hill.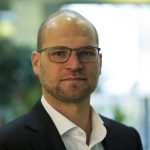 Matt Smith
Director of Energy and Water Technology
Hampton Roads Alliance
Matt's role at the Alliance is to develop and promote Hampton Roads as a clean energy hub, including the offshore wind industry.
Before joining the Alliance, Matt was a Senior Regional Planner at the Hampton Roads Planning District Commission. He worked in the areas of strategic, environmental, and comprehensive planning. Matt came to the HRPDC from the City of Hampton's Community Development Department where he helped begin Hampton's resilience planning program.  Prior to his career in community development, Matt worked for a member of the U.S. House of Representatives and for a research and consulting firm.
Matt is a native of Hampton Roads. He has a master's degree in Urban and Regional Planning from Virginia Commonwealth University and a B.A. in American History from Washington and Lee University.