Attractions In Currituck County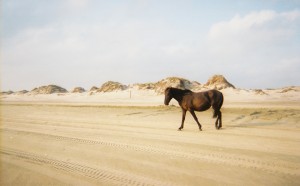 Wild Horses of Corolla
Phone:  252.453.8002
Website:  www.corollawildhorses.com
The University of Kentucky's Veterinary Department conducted DNA studies which confirmed the horses' ancestry from Spanish mustangs and they have become a breed unto themselves.
Currituck Beach Lighthouse & Lightkeeper's House
Corolla Village Road
Corolla, NC 27927
Phone:  252.453.8152
Website:  www.currituckbeachlight.com
The red brick lighthouse is made up of over 1 million bricks and there are 214 steps that lead to the top. It is also the last lighthouse to be built on the North Carolina Coast. It was first lit on December 1, 1875 and is the original structure standing today. The Keeper's quarters have been recently restored but are not open to the public. A gift shop is adjacent to the lighthouse on the grounds. Open Daily 9 a.m. – 5 p.m. Easter through Thanksgiving, (Closed Thanksgiving Day)$7/person to climb, cash or check Children 7 & under climb free with an adult.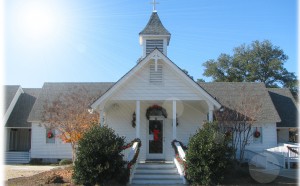 Corolla Chapel
1136 Corolla Village Road
Corolla, NC 27927
Phone: 252.453.4244
Website:  www.corollachapel.com
The chapel was built in 1885 and restored in 1987. The interior walls and ceilings, and the pews, pedal organ, pulpit, and pulpit chairs are all original.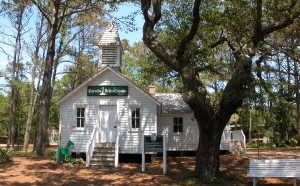 Corolla Schoolhouse
1126 Schoolhouse Lane
Corolla, NC 27927
Phone:  252.453.9612
Circa 1900, this small school served students from the 1st grade through high school. The bell tower's ring used to call the children into school.
The Lewark-Gray House
1130 Corolla Village Road
Corolla, NC 29727
Phone:  252.453.4388
Built in 1895, this restored house is now a shop that displays a timeless array of style and elegance. Open daily: 10 a.m. – 5 p.m.
"Lightkeeper's Wife"
1130 Corolla Village Road
Corolla, NC 27927
Phone:  252.453.4190
This building is the same vintage as the Lewark-Gray House and in fact is one of the out buildings of the Lewark residence. Located adjacent to the house. Open daily from 10 a.m. – 5 p.m. & now houses a small shop.
The Parker House
1129 Corolla Village Road
Corolla, NC 27927
Phone:  252.453.0171
Built in 1930, this house now contains a small shop. Open daily from 10 a.m. – 5 p.m.
Life Saving Station
Phone:  252.453.3325
Built in 1878 and later moved from its location in Kill Devil Hills, this station stood not far from where the Wright Brothers had their first flight. Its unique architecture is evident from its unusual appearance. It now houses the sales office of Twiddy & Company. Open daily: 10 a.m. – 5 p.m.
Currituck Banks National Estuarine Research Reserve
Phone:  252.261.8891
A 960-acre reserve owned by the state of North Carolina and managed by the NC Division of Coastal Management. The Reserve parking lot is located 3/4 of a mile north of the Corolla Lighthouse. The parking lot is the access point for the boardwalk, which takes visitors through maritime forest to a viewing platform overlooking Currituck Sound. The boardwalk is 2/3 of a mile round trip and is handicap accessible. For more adventurous hikers, follow the maritime forest primitive hiking trail which leads hikers from the boardwalk through a beautiful maritime forest. This trail offers a round trip distance of 1.5 miles.
Whalehead Club
Club Road
Corolla, NC 27927
Phone:  252.453.9040
Website:  www.whaleheadclub.com
The Whalehead Club has recently undergone a $5.6 million restoration. The 1925 residence of Edward and Marie Louise Knight features art nouveau architecture, tiffany glass, cork floor tile, and interlocking copper roof shingles. Tours Monday – Saturday Year Round 9:00 am – 5:00pm. The last full tour begins at 4:30pm and Specialty Tours require advance reservations.
Outer Banks Center for Wildlife Education
Phone:  252.453.0221
Website:  www.ncwildlife.org
The Outer Banks Center for Wildlife Education has eshibits on waterfowl and hunting, fish and fishing, and ecology and conservation in the area. The eshibits include an extensieve wooden decoy collection, a vintagve outboard motor display and a life-size marsh exhibit that includes a 12,000 gallon aquarium and a re-creadted duck blind scened from the golden era of Currituck hunt clubs.
GraveDigger
5650 Caratoke Highway
Phone:  252.453.4121
Website:  www.gravedigger.com
Visit the home of the legendary monster truck. Sit inside the truck and have your picture taken, or pick up some Gravedigger merchandise at the Diggers Dungeon. Hours: 9 a.m. – 6 p.m. Memorial Day through Thanksgiving.
Currituck County Historic Courthouse
Phone:  252.232.2075
Charles Kuralt Trail
Phone:  252.429.3100
From the Charles Kuralt overlook, approximately 182 kinds of birds can be seen especially during the winter months. Refuge open from dawn 'til dusk.
Mackay Island National Wildlife Refuge
Phone:  252.429.3100
Visitor contact station/office is open Mon – Fri, 8 a.m. – 4 p.m. and is located one mile south of the NC/VA border. A small boat launch and 20 miles of canals and creeks available on Mackay Island Rd. Great Marsh Trail (1/3 mi.) and Mackay Island Rd. (1 mi.) are open year round for road driving, walking, biking, fishing and wildlife observation. Mackay Island Trail (4 mi.) and Live Oak Trail (6.5 miles) are open March 15 – October 15 for walking, biking and fishing at three duck ponds. Admission: Free.
Tanger Outlets Nags Head
7100 S. Croatan Highway
Nags Head, NC 27959
Phone: 252-441-5634
 www.tangeroutlets.com